Do Marine Batteries Need to Be in a Box? What You Need to Know for Safe Boating?
Date Posted: 24 February 2023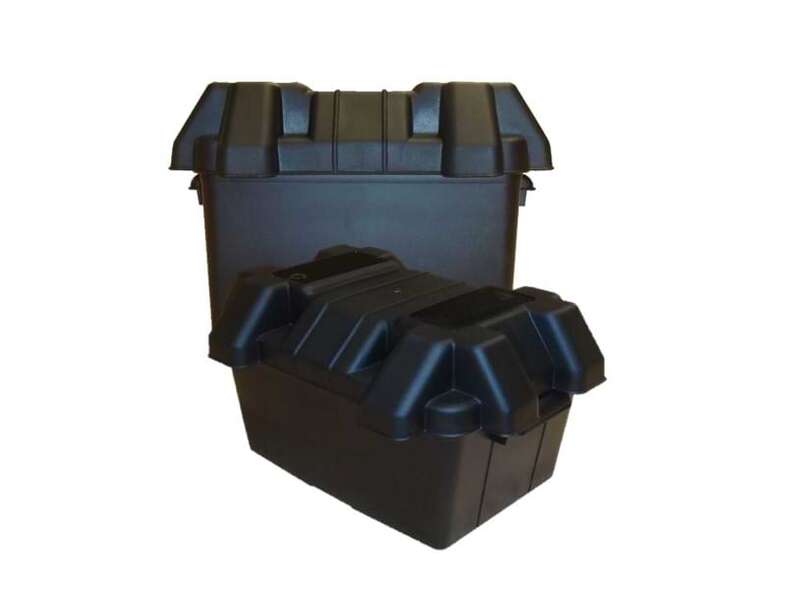 ---
You may think it's not a necessity, but a marine battery box is a crucial safety feature on your boat. It can save you a lot of stress and reduce risk to you and your crew members. Want to know how? Keep reading!
What Is a Marine Battery Box?
A marine battery box is simply a case that protects the battery from water, petrol or any other substance that could potentially leak into the engine compartment of your boat. Usually, battery boxes are constructed using heavy-duty polypropylene which creates a watertight seal.
What Does a Battery Box Do?
A battery box for a marine battery is an essential component that prevents water damage to your battery and ensures that it keeps functioning. This way, it keeps your boat safe from fire hazards, and protects you and your crew from being electrocuted while out at sea or back on land.
How Does a Battery Box Work?
Boat batteries are secured firmly into a waterproof marine battery box which has adequate ventilation. It may also have additional features such as charging ports for other devices and boat accessories. They usually come with locking tabs that secure the lid and keep foreign elements out. A top-quality battery box has a high resistance to water, oil, acidity, UV exposure and extreme weather conditions. As you would expect, these boxes are extremely durable and are generally built to withstand temperatures from -40 to 48ºC.
Do I Need a Marine Battery Box?
Being well-prepared and prioritising your safety is an essential part of getting ready to hit the open water. Here are some ways in which a waterproof marine battery box can be beneficial to your boat, yourself and your crew:
1. Protects Your Boat's Battery
When you are sailing, your trolling batteries can get exposed to freshwater or saltwater. This can cause them to corrode and be a potential hazard. In order to avoid this, you need a waterproof compartment to store your battery in. A marine battery box is built with the purpose of keeping a trolling motor battery enclosed and secured. This in turn, prolongs the battery life and protects it during transportation and use.
2. Helps Ensure the Safety for Everyone Onboard
As mentioned above, a marine battery box keeps your trolling motor battery dry during operation by preventing rain and sea spray from coming in contact with the battery. They provide much needed coverage and help protect your power sources, especially during environmental hazards which can soak all of your gear and electronics. If your trolling motor battery is safely secured inside a battery box, you can continue on confidently with the assurance that your boat will not suffer a battery failure.
Conversely, in the absence of a battery box, high-powered batteries can generate dangerous voltage that may cause electrocution. Furthermore, when batteries are left exposed, they produce toxic electrolytes which can be dangerous when they come into contact with the skin and eyes. Marine battery boxes also prevent the battery terminals from making contact with other metal objects, thereby eliminating the risk of short circuits and protecting the crew from toxic substances.
3. Added Convenience Wherever You Go
You may think that adding a heavy-duty box to your boat is a hassle when space is at a premium but you will be surprised to find that it is actually very convenient to use battery boxes. Most battery boxes are lightweight yet incredibly durable meaning that you will be able to easily mount them on your boat with the assurance that they will do the job. Plus, with added accessories like charging ports, they can provide you additional much-needed features.
Picking Your Marine Battery Box
When selecting your marine battery box, there are a few things you should keep in mind.
Firstly, always make sure to purchase a box that can properly accommodate the size of your battery. For instance, if you have more than one battery, opt for a bigger box rather than the standard size.
Another important thing is to ensure that the box has all the necessary features to fit your individual needs. If you require charging outlets and LED battery condition indicators, look for a box that has these features built into it.
Lastly, you need to make sure that your battery box fits your budget. It isn't absolutely necessary to have all the bells and whistles when it comes to additional features. Just make sure you choose a good-quality box that does the task and is, at the same time, affordable.
Shop Reliable Marine Battery Boxes at Mr Boats!
If you need a battery box for your marine battery, look no further! Mr Boats houses a wide range of top-quality battery boxes and other essential marine equipment for avid boaters, all affordable prices. With a team of qualified marine mechanics as well as marine electricians onboard, we can help point you in the right direction and offer advice on minor installations. Browse our collection today and get ready to set sail!