How to choose the right Fish Finder
Author: Mr Boats Date Posted: 24 February 2020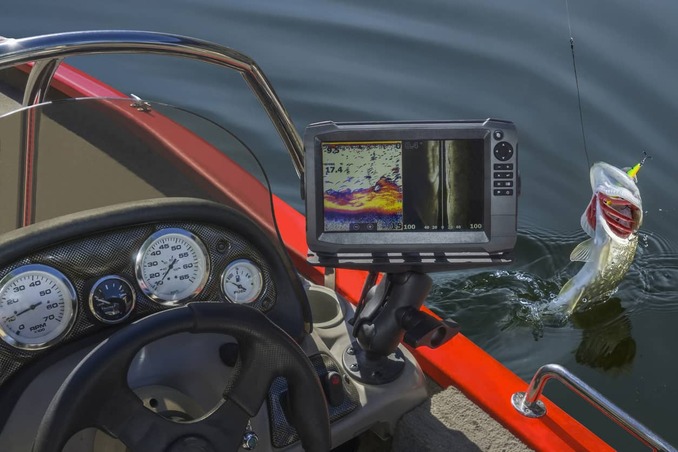 What is a fish finder?
In the modern-day and age, you no longer have to rely on the tips and old stories from fellow fishing enthusiasts when it comes to finding the best spots. Let's face it, no one wants to venture out onto a freezing cold lake only to reel in zero catches all day. Technological advances have now led to the creation of Fish Finders, also known as Fish Finder GPS. These give you detailed information on the best local spots in real time, to ensure that you maximise your chances of catching plenty of fish. The Fish Finders send sound pulses into the water below your vessel, relaying a picture back to your device based on the resulting echoes. Essentially, sound waves are used to paint a clear picture of what is going on below the surface of the water, including where the fish are, how many there are, and how big they are. Fish Finders have now evolved into portable, easy-to-use, pocket-sized, must-have gadgets.
What does GPS mean? (with regard to fish finder)
The standard meaning of GPS is Global Positioning System. You will likely be most familiar with this in terms of your car satellite navigation systems and Google Maps on your smart devices. This same technology is applied to Fish Finders, using satellites that orbit the Earth to provide an accurate relay of your geographical location. This means you can not only locate the fish below the surface of the water but know exactly where you are in the grand scheme of things. This makes it easy to reach where you want to go and find your way home again.
What fish finder brand is best?
There is a vast array of different makes and models out there when it comes to Fish Finders, but a few stand head and shoulders above the rest. When it comes to spending your money on a gadget, you want proven reliability, effectiveness, and a good price. Therefore, these three brands should definitely be your first port of call when it comes to Fish Finders.
Are fish finders waterproof?
This entirely depends on the brand and model of Fish Finder that you buy, so read the description before purchasing. If you are expecting to get the device extremely wet or fully submerged, then a waterproof Fish Finder is a must. However, the majority of Fish Finders are water resistant. This means that they are fully capable of working in the midst of heavy rain and splashes from the water, but cannot be fully submerged.
How do I install a fish finder?
As with any gadget, the first step is always setting it up. Luckily for you, we have a step-by-step guide to remove the confusion and frustration from this process.
Register your device by putting your email into the manufacturer system in case you experience any issues and need maintenance.

Update the software to ensure that your Fish Finder is running at maximum capacity and with the latest information.

Find the perfect spot for your mount – this should be between waist and shoulder height and at the right angle for you to easily see it without neck or eye strain.

Locate your power source – where is the power coming from and is it close enough to the spot chosen?

Once you have chosen the spot, you may need to drill for the mount and the wires.

Sealant should then be applied around the holes you have drilled before you mount the Fish Finder or thread through the wires.

Run the power cables through the holes – you may need to lengthen or shorten them.

Place the wires for your transducer – bear in mind that the transducer should go on the deepest part of the boat.

Install this transducer using a mount and the necessary wires.

Hook up the Fish Finder and away you go!
Can I use a fish finder on a kayak?
The short answer is, yes you can. Fish Finders are now portable and pocket-sized, meaning you can take them anywhere and everywhere. Many people now enjoy purchasing Fish Finders to take out on their kayaks to find the best fishing spots. The main questions you need to ask yourself when purchasing a Fish Finder for a kayak are: Are you going to mount it permanently or temporarily? Where are you going to mount it? How are you going to power it? How are you going to maintain power for the entire kayak trip? Fish Finders also operate best in deeper water, so it depends where you are planning on taking your kayak. The best places to mount the Fish Finder are on the kayak body, on the swing arm, or on the tracks.
Do fish finders show water temperature?
The vast majority of Fish Finders do have a setting that tells you what the surface temperature is. However, these devices often cannot tell you what the temperature is in deeper water, information that may affect which fish are present and how many. If you are looking for a Fish Finder that shows temperature, then you will need one with a specific temperature unit.
What is a fish finder GPS combo?
A Fish Finder GPS combo does what it says on the tin, it combines Fish Finder technology with a Global Positioning System. This ensures that you can not only locate the fish under the water but also find your way around with the latest maps and navigation instructions. Not all Fish Finders come with GPS built-in, but it is an extremely helpful optional extra and certainly one you should look into.
What's the best fish finder GPS combo?
If you have narrowed your Fish Finder search down to one that also contains GPS, then these are ten of the best models to check out from the past year.
What is the best fish finder for 2019/20?
As we enter the new decade, which Fish Finder is currently the best on the market? A number of devices jumped out over the past year, so we are going to run through five of our favourites in five key Fish Finder categories.
Best value fish finder – Garmin Striker Plus 4
Best fish finders for kayaks – Garmin Striker Plus 7SV Fishfinder
Best portable fish finder – Garmin Striker Plus 4CV Fishfinder
Best down imaging fish finder – Lowrance Hook2 5X Fishfinder GPS
What is the best GPS for boats?
When it comes to marine GPS options, there are plenty on the market and it can be tricky to know which one to go for. Therefore, you should usually base your decision on your personal price range and the thoughts of boating experts. Here are our best models to look out for in 2020:
​Mr Boats
When looking for boating gear, Fish Finders, and GPS devices, it is important to order from a brand you can trust. Luckily, Mr Boats Is here to help in the Sydney area, as well as wider Australia. A family-run business with over 100 years of combined experience in the industry, there is simply nowhere better for the latest boating and equipment know how. The staff at Mr Boats includes qualified marine mechanics and electricians, as well as a helpful array of experts who are only too happy to listen to your individual requirements and point you in the direction of the perfect equipment for you. All products are personally tested and approved before they hit the Mr Boats shelves, ensuring top quality. If you are struggling to decide on a product or simply need an expert opinion, contact the Mr Boats team via phone or email, or shop the large range of fish finders online at Mr Boats.